Hurray,
Today i am feeling proud of myself, yeah! i am Highly intelligent by Free IQ Test.com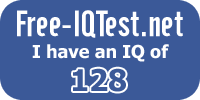 Free-IQTest.net -
Free IQ Test
Please take the test, and share the results with me!!
It's awesome, really it's good to be and feel Superior Intelligence in yourself!!
Consult the
IQ Guide
to know how much intelligent are you!!!